Reference: Creating spreadsheets for the Web
Extensible Markup Language (XML) is an open international standard issued by the World Wide Web Consortium (W3C). XML provides both a platform-independent and an application-independent environment for defining document architecture and document markup. Quattro Pro allows you to automatically create XML tags based on data.
| | |
| --- | --- |
| Example of XML tag creation | |
When you automatically create XML tags for a range of cells, Quattro Pro applies the label in each row or column to all selected cells in that row or column. If you create XML tags in more than one location, Quattro Pro creates a set of tags for each set of labels. For example, if you select A1..C4 from the figure below and create XML tags for cell ranges located under the top row and right of the left-most column, five names are created: Jan., B2..B4; Feb., C2..C4; Housing, B2..C2; Utilities, B3..C3; and Food, B4..C4.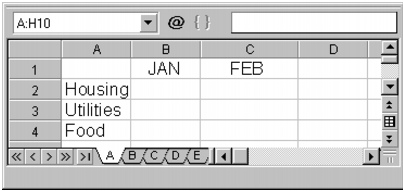 If you create XML tags at cell intersections, Quattro Pro adds an additional tag to each cell by combining the two sets of labels. The following is a table of the additional XML tags for this example.
| | |
| --- | --- |
| Cell | Name |
| B2 | JAN._HOUSING |
| B3 | JAN._UTILITIES |
| B4 | JAN._FOOD |
| C2 | FEB._HOUSING |
| C3 | FEB._UTILITIES |
| C4 | FEB._FOOD |
Reference: Creating spreadsheets for the Web